Sonntag, 29. Oktober 2017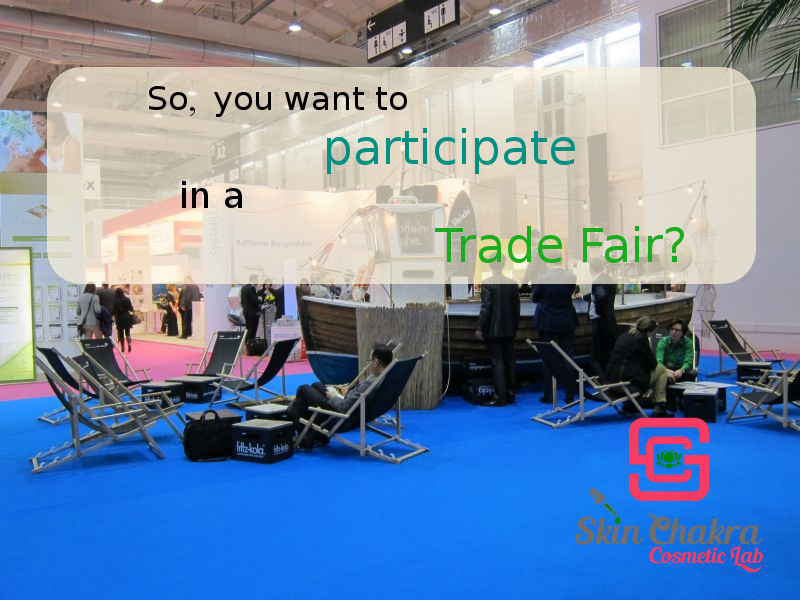 Exhibiting on trade shows and professional exhibitions is a certain way to make new contacts, gain new customers and to prove your business as a dynamic established and progressive one. So far, so good but where to start and what to do after you've decided to participate in such a business trade fair?
Even the imagination might be quite intimidating specially when you're running a small business or a one man (woman) show. Participation in a trade show needs weeks (and even months) of preparation before the exhibition and at least a couple of weeks of after work. It makes the whole formulation and stability testing tasks look damned easy. If you are interested or at least curious to now how it is and what it needs to participate at a professional business fair follow us through this blog post which is submitted by one of our customers and readers "Mrs. Zane Piese" from Atlantis skincare. Zane is a Formula Botanica graduate and the creator of Atlantis skincare. This year she participated on NOPA (Natural and Organic Products Asia) in Hong Kong. NOPA is one of the biggest and most important organic trade fairs in Asia.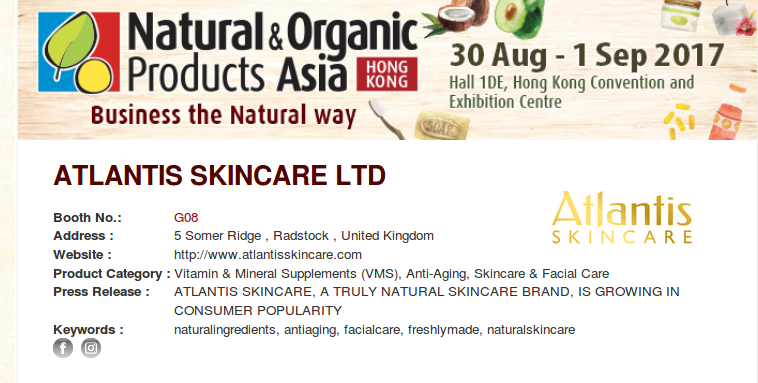 Despite her extremely busy time, when I asked her to share her experience with our readers and customers, she generously accepted to write a blog post about her experience. I need to emphasize that this is sharing her experience and giving some advice based on her own experience and it shouldn't be considered as a general guideline for all trade fairs and exhibitions. Your first participation should not necessarily be in another country and on another continent. You can start with a small exhibition in your own country to avoid the hassle of customs, currency change, cultural and lingual differences etc. However, I strictly recommend that you pour yourself a big cup of tea and read this amazing blog post.
Zane from Atlantis skincare:
After coming back from Bangkok where we were learning about perfumery, I was in deep thoughts. Thailand TV was filled with beauty adverts, adverts everywhere – underground, streets, shops were all promoting beauty and well-being. Bangkok seems to be growing like mushrooms - new buildings everywhere... seems like the stories about growth in Asia are true. So how can I benefit from it?
Quick research on mother Google and the answer has been found - Natural and Organic show in Hong Kong is the biggest B2B show like this in Asia, so how could I wish for a better place to be?
Contacting the organisers was very easy. Actually they were very open and helpful all throughout the preparation and the show. They saved us from some big mistakes and disasters - but that's another story.
So, the booth has been booked, money paid (price depends on size of booth, of course - and you can find this info on their website), but that was just the start.
Because we were aiming for the luxury natural skincare market, we decided to check everything we have step by step.
Starting with packaging, boxes, design, labels, website, leaflets - check everything 10 times. Believe me, we found lots silly mistakes in grammar and not only there. Ask your team and family to check everything too - this method works the best. They can see mistakes you can't!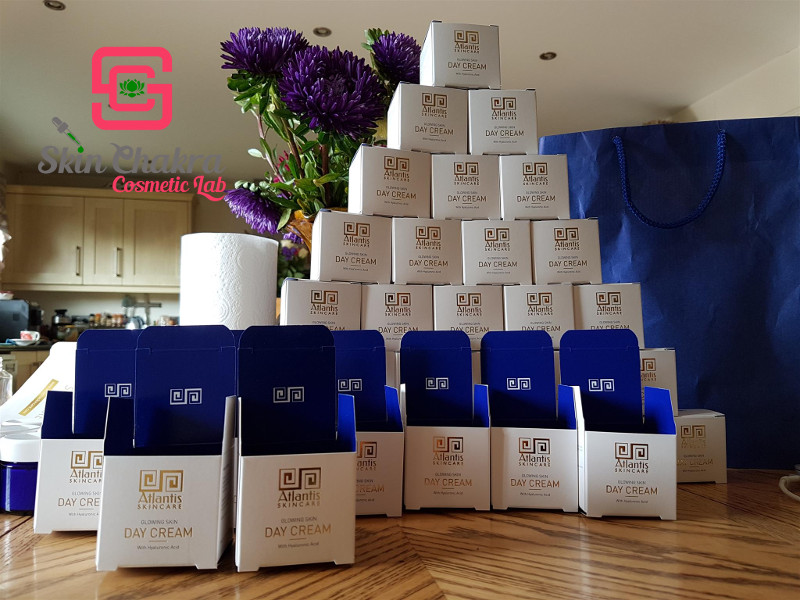 Next step was designing the booth. At the start I was not very worried about it, but we went to several exhibitions to learn and I could see some terrible mistakes people make.
First of all - don't order a big booth when you have nothing to put in it... I saw 9sq. m. booth with one small shelve in the corner - it looks empty, does not attract attention and people pass it. It's so empty - you want to avoid!
The booth is your face, your selling point. It must feel cosy, abundant and attractive - use banners, plants, shelves, samples, TV - everything you can afford to make it look full and attract people's attention.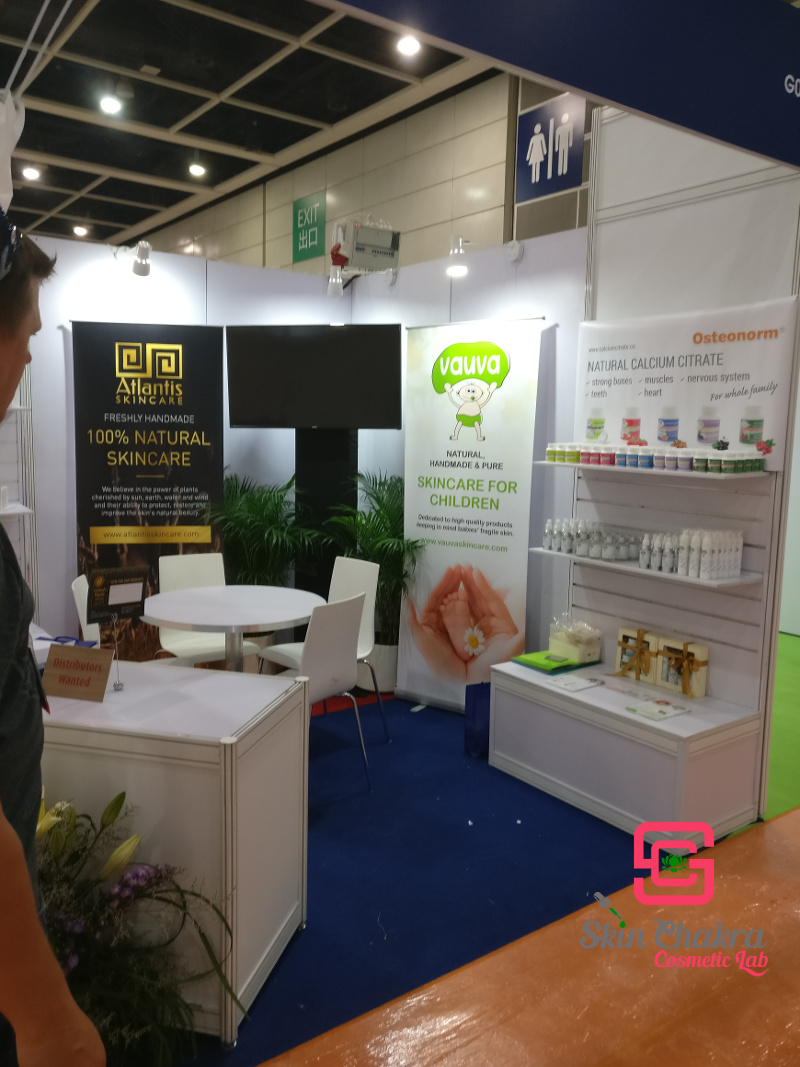 At the same time all the information should be in BIG LETTERS and as clean as possible. Imagine - you pass a booth and you have about a second to attract attention. If your potential client will not get the information in seconds, you've lost that client.
We have been working on our banners for weeks to find the best balance between information we want to deliver and our design, but it pays off. So many times people were passing our booth (sometimes very fast!) and stopping, because we caught their attention. We actually met so many people, who became our contacts, because of this – it's so valuable!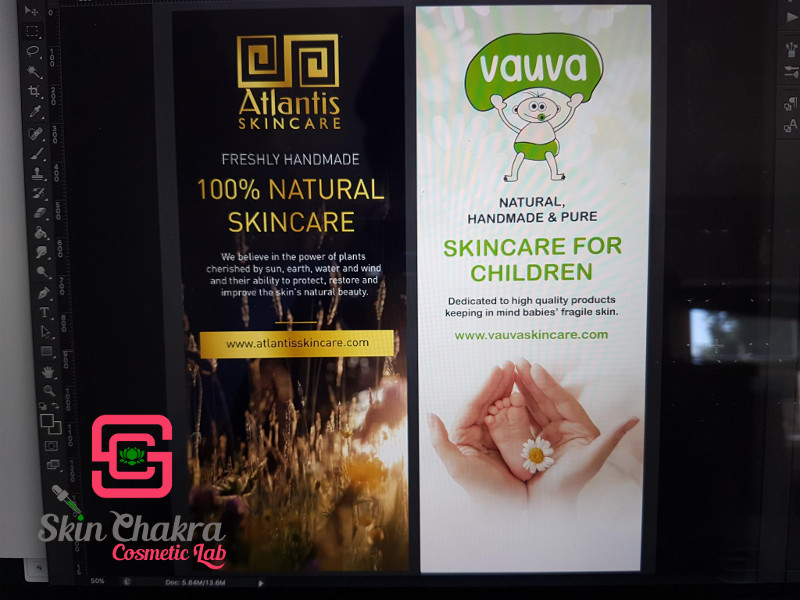 Another important detail - do not place any information lower than your table/chair level. It's a wasted effort.
Banners must have all important info at roughly your eye/head level where it is easy to see, BIG letters again, clean and easy to understand – this is the key.
Draw your booth plan on paper in real sizes, and think about how to arrange it - exhibitors have a company which works with them and they offer some furniture to rent. Also think about how to arrange shelves, you will definitely need a table (a round one - good for making deals!!) and chairs. Use plants (they can be rented too) and we also bought flowers, which made us stand out even more - we were the only ones in whole exhibition using real flowers. In Hong Kong real flowers are a luxury, but it gives more aroma and colour to your stand immediately.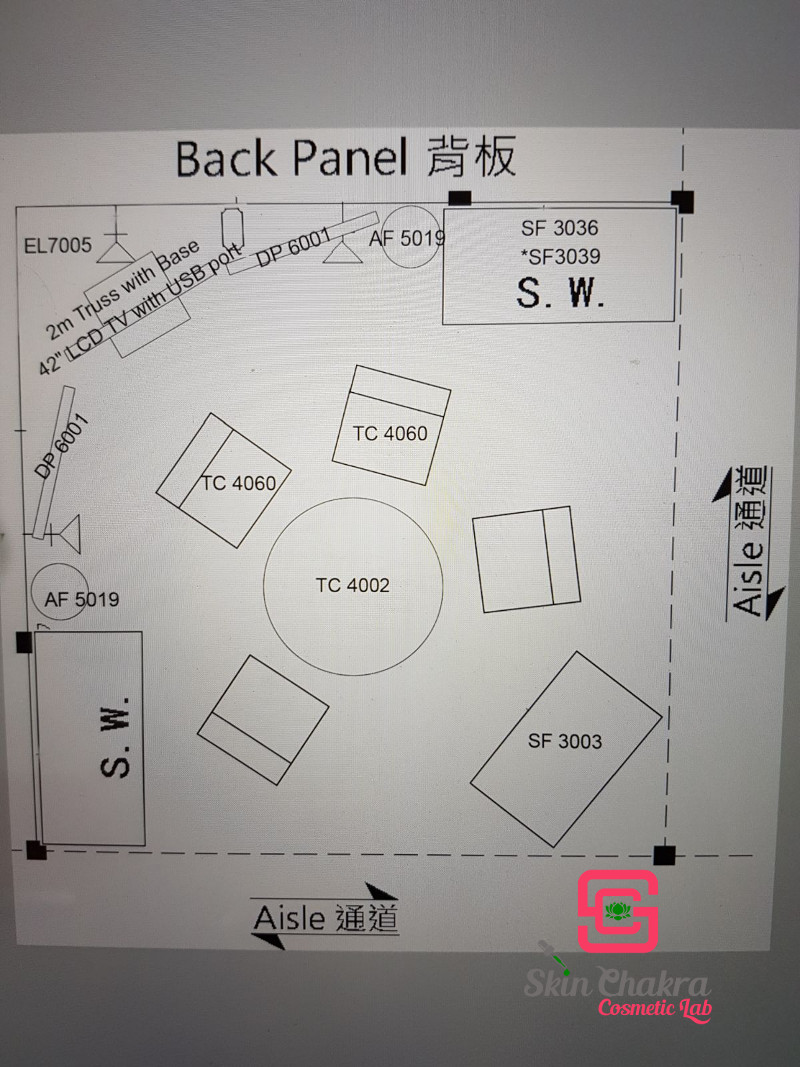 From the moment your name appears on exhibition's website as an exhibitor you will get emails from many different companies offering some services, but when we asked the organizers they warned us - there are lots of fake offers and you can pay your money and arrive in an empty stand, so you should be very careful with this. We ordered a booth design form such an offer and thank God we hadn't paid yet - it was a fake agency. Same applies to many other offers. So it's better to check twice before paying.
We also used a TV to advertise what we do and I think it was a nice addition to our booth as we added some bird songs to it and it lightened up our environment, too. I would recommend video or photo slide show as this is a way how you can demonstrate to your potential partners how you create your products, where are you coming from, your values and passion to natural beauty.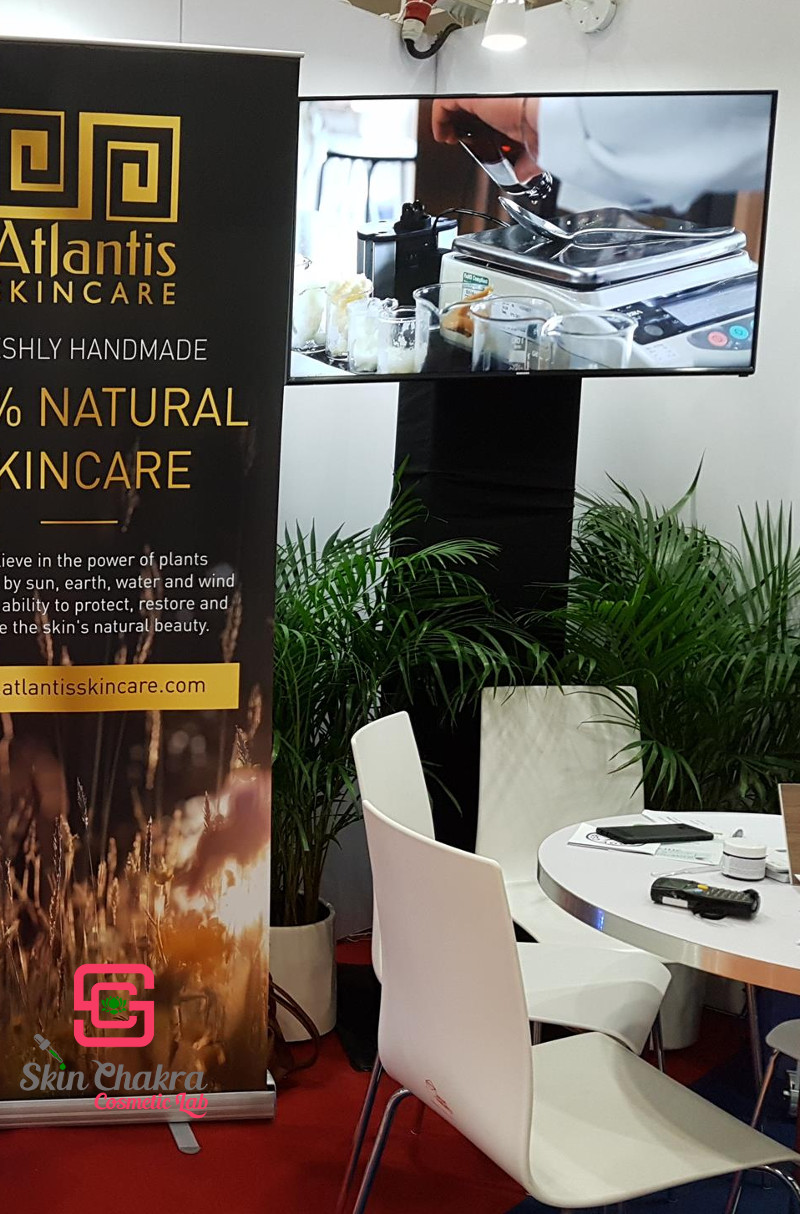 Make sure you have funds to cover the rent of furniture - it cost a lot to be honest, but our booth was filled with people all the time! Our neighbours were kind of jealous as we were 5 people constantly talking to interested people. So a good, abundant design really pays off. Also we received lots of compliments, from people who represented huge businesses, on our booth and presentation level - as we are quite a new business. So this was truly a moment of pride.
When thinking of the design of your booth – remember, you will also need some cabinets with doors to hide away samples, bags and other belongings too.
So when your plan is ready (paper drawing I mean), you order furniture and send the plan to the organizers - it will help later if you have any problems the day before exhibition. They attach all info you send to them to the booth walls and if something is missing you have proof on your wall.
Saves you time and hassle.
Also - if you want banners – the price for a banner is provided with your own print on, so you are not renting but getting a banner to take with you when leaving the exhibition. This is good to know in case you are considering a huge banner. You can also have banners attached to your booth walls but make sure it's not damaged, creased or dirty ( I saw some like this) - it looks terrible and its the face of your company!!
What to prepare for exhibition?
Samples, samples and more samples - this is my first recommendation. We had no experience with such exhibitions before, so we prepared a bit too much samples, but it's better than not having any at all.
Our stand was visited by approximately 200 people in 3 days. They mostly took small 5ml samples, leaflets and business cards, but for bigger companies and more serious potential partners we had full size products to give to them to try. We gave away around 20 sets of full size products.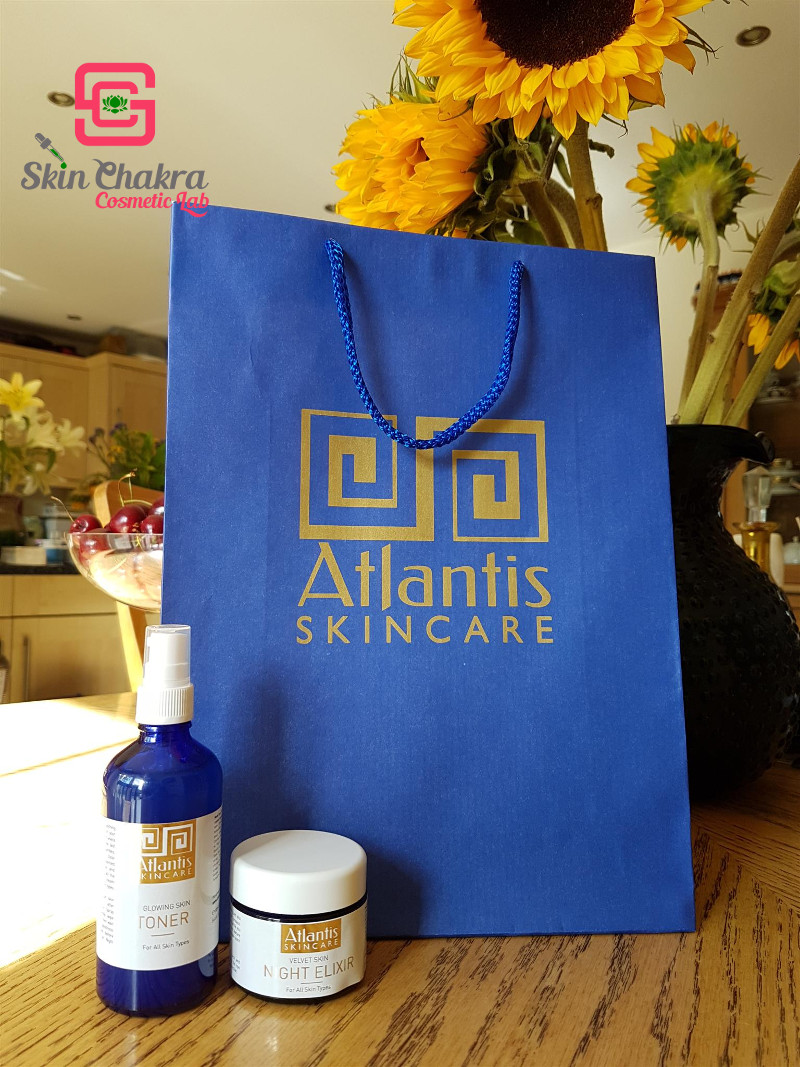 I noticed most skincare companies gave their products to try in their stand and that was it. I think we have been remembered because of our full size samples. Imagine - you visited an exhibition and met 40 different businesses, you can barely remember each of them but then you open a bag with some beauty products and it's more than likely you will remember these people immediately.
We also offered to try all our products on our stand. Prepare tissues, cotton pads and wet tissues to clean away everything if suddenly the client doesn't like the texture of product or its applied too much.
Also you should think about bags which you can use to give away samples, price lists, information leaflets. I would prepare around 200 leaflets and 100 price lists, and of course - business cards. We also got lots of compliments about our preparation- we had to think carefully to prepare all these items before the show, but it paid off again at the show.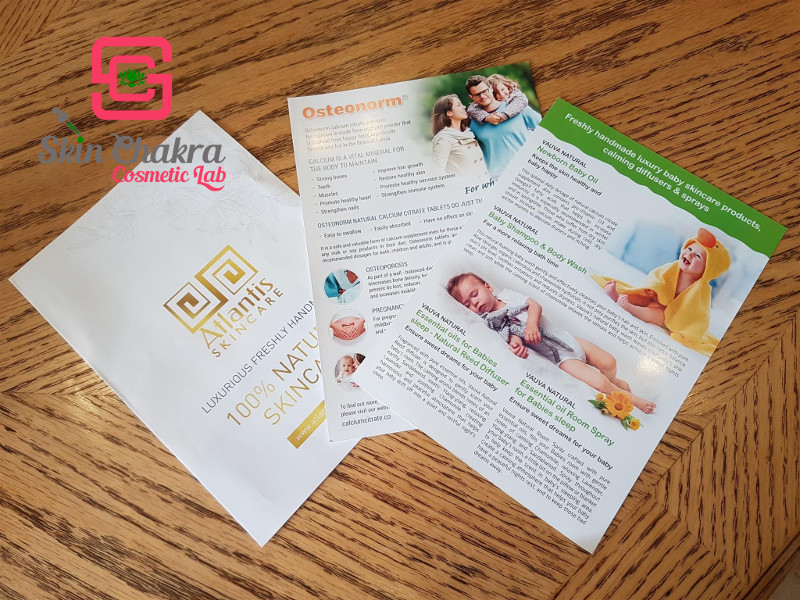 We learned some great lessons from our more experienced neighbours - they told us some secrets and one of them was – don't take with you full size products to place on your shelves but only empty packaging, its light and easy to carry. Yes shelves should look abundant but empty boxes displayed with one or two full bottles could do the trick! After the show this will speed up your packing and if you can't carry it with you, you must simply leave it behind.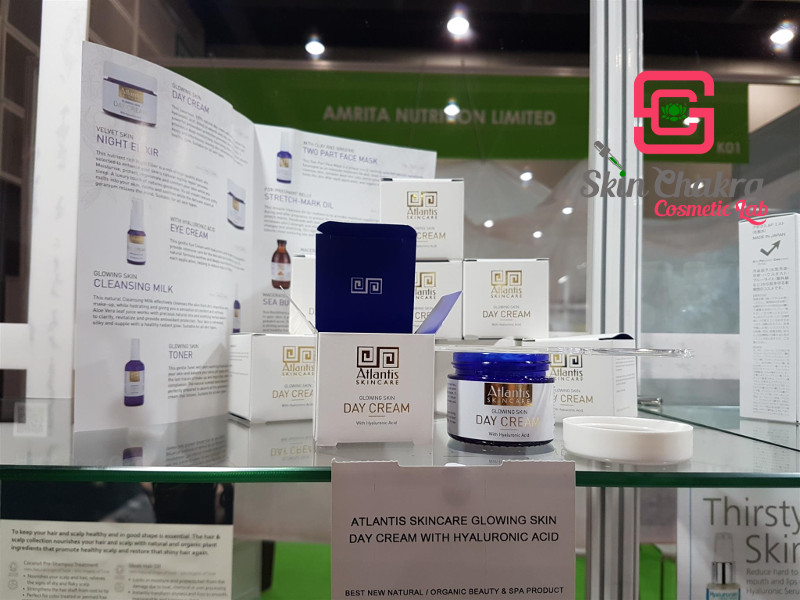 We sent way too much of everything, as there were 9000 visitors promised, I had no idea how many pieces of everything we will need. So took too much and it was a nightmare after the show as we decided to carry everything in our luggage and at the end we had 8 very heavy bags (4 new travel bags included, gave them as presents to my children later! They were very happy:) ).
Everything was sent in with DHL - they delivered the pallet within 2 days from England to Hong Kong, and because we had a great deal with them, the price was ok too. Exhibitioners offered their own delivery company but they gave us such a high price, plus hidden costs, plus they offered us a 2 week delivery, which in my eyes is way too long for natural products to travel. Also they didn't offer pick up from our office but asked us to deliver everything to Brighton, this was not acceptable for me. Everyone has different circumstances, but if you want to use a currier - call around first and find the best deal. However I did notice that airlines offer good prices on extra luggage so if you are not planning carry large amounts of everything - this is an option for you too!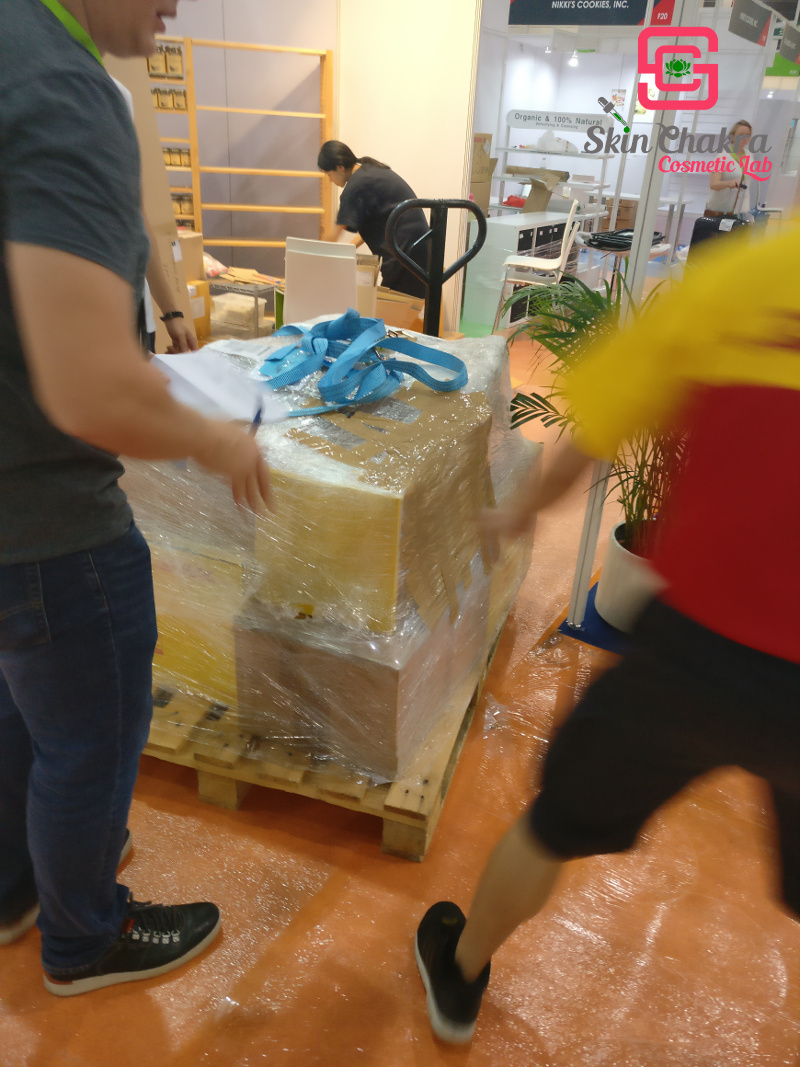 It's useful to do some research on delivery times and costs to Asia as people will ask about it during the exhibition, so you should be ready.
Prepare for other business opportunities to come for example - white label offers, bulk purchase offers, distribution offers etc etc. Be ready for much more than just selling your products.
Preparation for such an event is huge work and it involves high costs too, but for me Asia and Middle East market is very promising and growing opportunity and people are ready to pay for quality.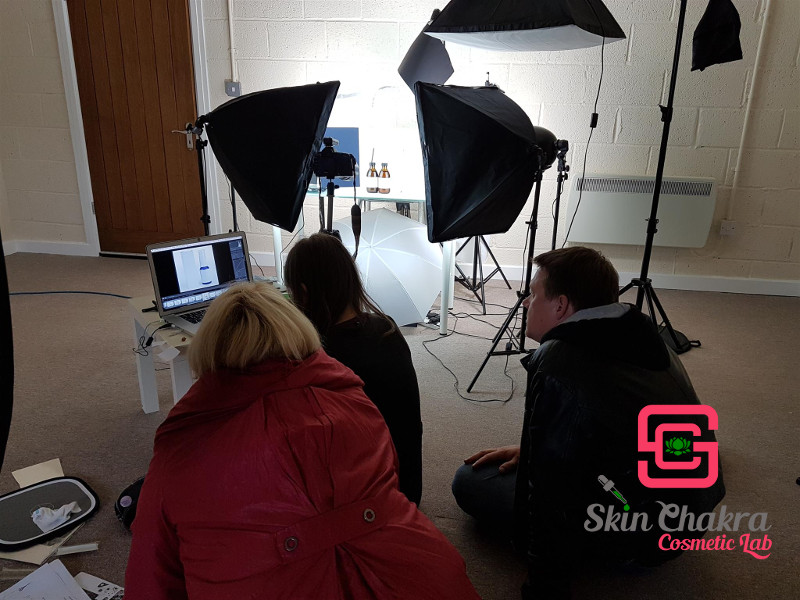 Costs for booth, furniture, flights and hotel for 4 people all together was around £10 000 but I never looked back as we had 3 brands to offer, we also hired a Chinese speaking girl and for us 5 it was very intense 3 days -only the morning of the second day was bit calmer. So we were constantly offering, explaining and making friendships for 3 days.
If you have one brand - I would go for 2 people.
Preparing people before show is another topic you should think about. It is very important to educate your helpers on your products, methods of making them, ingredients and ethics of your brands.
Ah, nearly forgot - uniforms!!!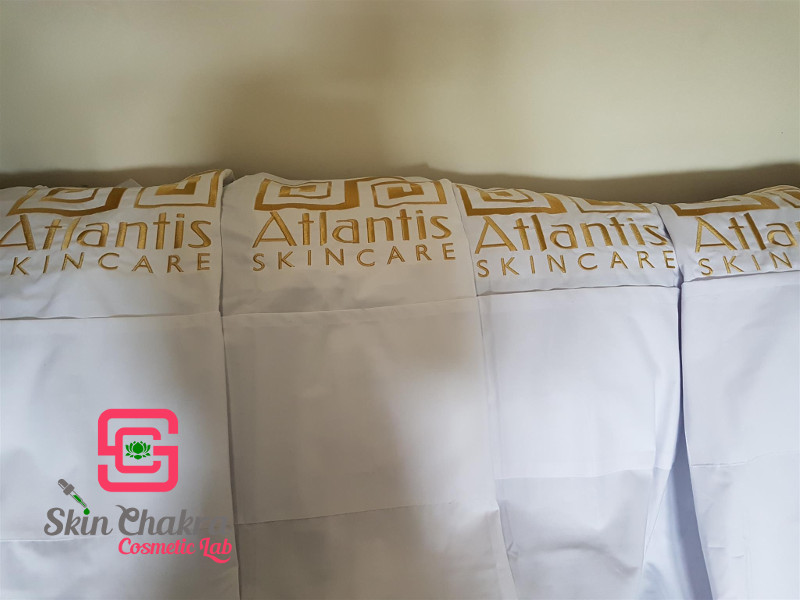 To be honest it was so cute when we all had uniforms to wear! It was in our style, our design and we looked as a team and it was easy to recognise us for people passing stand. I walked several times around the exhibition and only a few businesses had uniforms, but those companies who had aprons or t-shirts looked so much smarter and better. We had blue jeans, white t-shirts with our logo on and aprons with our logo. They looked amazing.
You have access to your booth the day before the start.
If you are expecting a delivery of your goods -I would recommend you to have a local phone number as you should meet the driver before he drives in the loading bay to give permission (the permission will be given to you by the organisers as soon as you register, if you requested any before exhibition!) and they can call you back only on a local phone. If there is language barrier - organizers are happy to help you, just ask!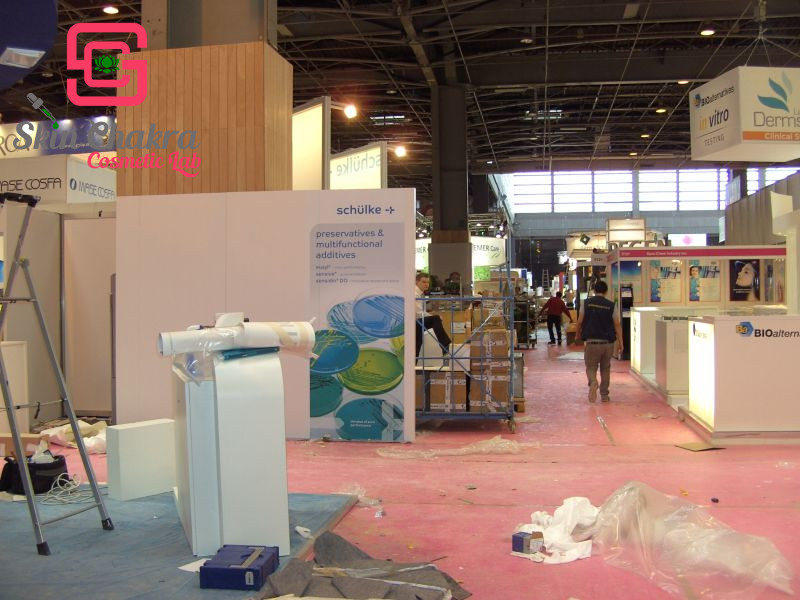 Be ready for a wait as the contractor company can be slow and your booth can be ready for you some 2-4 hours after the promised time. We were waiting outside but at the same time I was checking with updates from our furniture delivery all the time. This is where your drawing of the plan on the wall is helpful – the organising is stressful for you and you can mix up some things but the plan on the wall (exhibitioners stick it there) keeps your grounded and in charge of situation.
If something is missing - go and ask the organizers - usually furniture renters have their own office on site and they are very open to check, help and arrange. We had lots of stuff missing, but eventually everything arrived and we can finish designing our booth. When you prepare at home - try NOT TO TAKE any extra things with you. When you are in a limited space of the booth you need as few items as possible and you should find a way to hide them, and this is a puzzle sometimes. Also I would recommend for you to have a water bottle with you - the bigger the better as you work hard and there is no time for lunch sometimes, so you keep forgetting to drinking water, but if you have a bottle with you in the booth it makes it easy and much cheaper.
Also think how you would catch people's attention? We used several tactics. One was for people in a rush, we simply told them - natural skincare, baby skincare, calcium supplements (it was all our brands we were offering) and many of them stopped as they were interested in these topics.
Another method was for slower walking people who were slowing down – ask them what they are looking for. If they are looking for skincare - offer them what you have, if not - greet them; wish them a nice successful day and let them go. Its positive energy for your booth and feels so good when they smile back!
Another tactic was to offer them to try our day cream, this was working mostly on women but was a very successful method too.
So go with your gut feeling and intuition to find the best tactic for you and you will never be wrong.
NEVER EVER sit down near your table and use your phone if people are around - you can sit down if there are no people and check your phone in between. I was approaching some stands with all the people sitting and using their phones and it was a signal for me - GO AWAY,WE DONT WANT YOU!!! And try not to turn your back to people. If you are speaking to a potential customer its ok, but if you are facing with your back to customers and with your face to the other staff members - looks sad.
First day of exhibition starts slow - in Hong Kong people have shops open until 11pm, so morning is starting slowly and not very early. Don't panic - afternoon is the time when you get most of your contacts!
Use this time to take a look around, film your team and booth to place it on social media (believe me there will be no more time later on!!), but also this is the time when big companies have their appointments with you.
I think it is important to make contact on a human level with them so be yourself. Share your passion of what you do and ask them what they are looking for. Offer samples, leaflets, everything you have with you, but also as soon as you know you have an appointment with someone from a different country - do some research on this country, on their economy and cultural differences. When you tell them something about their countries their faces light up in seconds.
Remember - in Asia process of sharing business cards is very important - people pass business card with both hands (if they can of course) and you should do the same with yours as this is a sign of acceptance and respect.
It is important to keep an eye on your booth - it should be tidy, and in order at all times as you never know when and who will approach you! So be ready.
If someone asks you how old your company is – its better to tell them a bit more than the real time, if your company is 1-2 years old. This is not good sign if you are a young business and people can be careful in doing business with you.
Also I was talking with 2 organizers who were there for the 3rd time and they all told me the same - if you really want to be in this market you should come back at least 3 times. In the first year you make contacts, next year they come back and see if you are here again and start to order, but most of the business will be done on your 3rd visit, as people see you are consistent in what you do, you are stable and you have money to come back 3 times, and this is when you have been seriously taken in account.
With Asian people it is easy to talk to, as they are open and ready to listen and ask questions. They are honest - so this really is a joy when you are in such an intense event, BUT there are always some time wasters who approach you, think about how you can manage such a person beforehand as you can lose some big fish because of such people. It is important to feel who is who and not to invest your dear time in wasters. I lost some big fishes as they, of course, had no time to wait for me….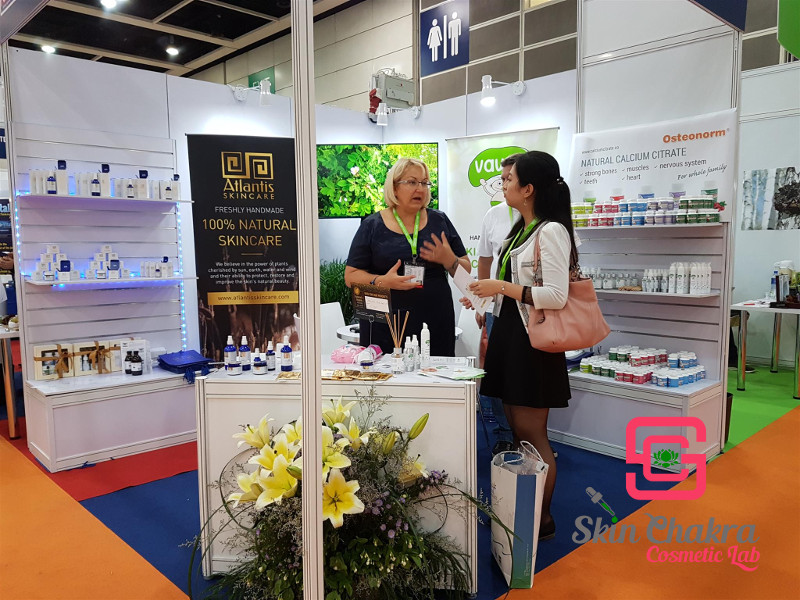 Last day of exhibition is the most intense with a slow morning but people come back to buy your products if there are any left - be ready for offers on price, if you are happy to sell them or take orders to send them over later. Also think about card payments - we lost some big deals because we were not ready for it!
As I mentioned before all together we got around 200 business contacts. I would recommend for you to make a note on each card who was the person, what kind of interest they had etc. It is very helpful after exhibition when you manage your cards. Deals will not jump from thin air - you should work on them after exhibition. Sort your cards in 2 parts - one is for serious contacts and the other for less serious or small business. And this is where the hard work continues :)….
I hope you've enjoyed this blog post as much as I did. Shoot your question per mail or on our FB page .
If you have any experience on trade shows and fairs and would like to share it with our readers, I would highly appreciate a guest blog post. Please send me a mail so that we can arrange a blog post for you.
Wish you all the best for your upcoming trade shows
BeHappy and have fun
Comments
Display comments as (
Linear
| Threaded)
The author does not allow comments to this entry